Often times, one of the most important aspects when it comes to a business is the location of the store. Depending on the niche market for your business and the category of items you are trying to sell, the location of your store may change accordingly. For example, if your business deals with mainly healthcare goods, it might be profitable to set up shop in an area with a large concentration of gyms or yoga centers. This will increase the number of potential targets for your items and ensure that your products are closer to your consumer base.
However, in today's digital age, such boundaries can be said to no longer exist. With an increasing number of people preferring to shop from the comfort of their homes, the e-commerce marketplace has seen an exponential boom. If recent trends are to be taken into consideration, this trajectory is only likely to grow even further. At the top of this chain are social media platforms like Facebook and Twitter, with their vast databases of active accounts and personnel. What were once essentially tools for visual marketing has now become an extra stage for hassle-free shopping.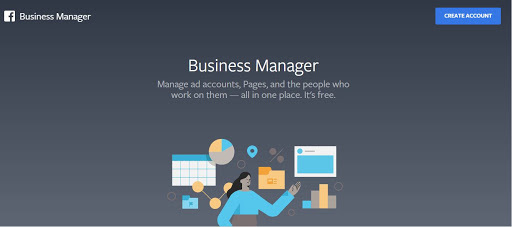 Facebook is fast becoming one of the top sources of online revenue.
Why You Should Set Up Shop On Facebook
Facebook itself, with a combined active user base that rivals even the population of some of the country's in the world, is an increasingly attractive choice. Selling on Facebook, though a recent phenomenon, is a growing movement. This has been due to a number of factors, the most important of which would be the emergence of third-party website builders and Facebook's own business utility tools. With a staggering number of people now spending their time on the platform every day, it only makes sense to break down any barriers to any potential trade. You essentially don't even need a dedicated website for your online store anymore, with Facebook itself launching multiple tools like Facebook Business.
Having a presence on Facebook ensures that your business venture has access to the Facebook Marketplace, opening a plethora of opportunities to sellers. With a huge customer base ripe for the picking, you can even target specific audiences that might be favorably disposed towards your product lineup. These people can be the potential core of your niche customers, which in turn can bring more people in through word-of-mouth. Selling on Facebook also provides you with a set of analytical tools and consumer statistics to better understand the flow and mood of the market. This can aid you in any future strategies you may devise for the running of your company and the direction it's headed in.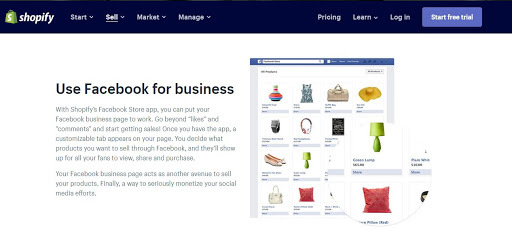 Shopify ensures seamless transfer of information between your online marketplace and FB store.
Using An eCommerce Website Builder
As mentioned earlier, one of the biggest reasons for the boom in the eCommerce market in social media platforms has to be the entry of third-party eCommerce website builders. With some builders like Shopify, BigCommerce, and Wix raking in millions of dollars a year, they're a huge benefit to anyone thinking of opening their own business ventures. By taking away the factors of huge capital investment and time cost, it has never been this easy for people to open their own online stores. Once you have set up shop, you can freely manage your business not just on a single platform but also across separate platforms. Any updates made in your online store is automatically reflected in your Facebook store too, further increasing ease-of-business. 
They also have a number of added benefits. Using an eCommerce website builder for selling on Facebook, for example, enables you to overcome certain Facebook Store limitations. Sellers will now have increased authority and efficiency of management when it comes to their product inventory. They will also have a larger number of payment options to offer to their customers, along with any promotional discounts. 
For example, one of the biggest eCommerce website builders is Shopify, with millions of users who generate billions of dollars annually. With a plethora of applications to cater to almost every business needs, it's a veritable gold mine of templates and themes to make it as easy as possible for sellers to market their goods. With Shopify's Facebook Channel, selling on Facebook has become very easy, with management centered in one place. This ensures that the seller can focus more on marketing and strategy rather than accounts and management. Shopify, with its built-in features and tools, makes managing and scaling an online store very easy and hassle-free.